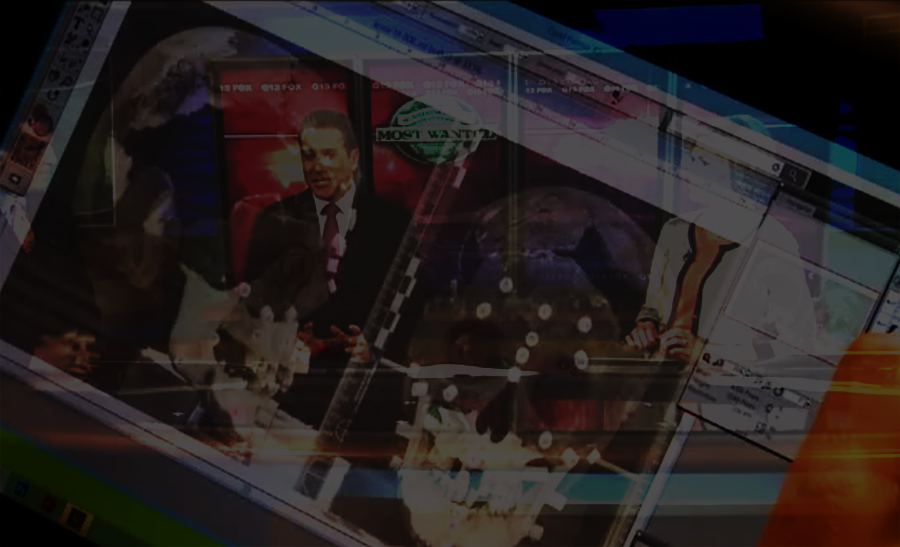 From the Artist's Studio
Latest News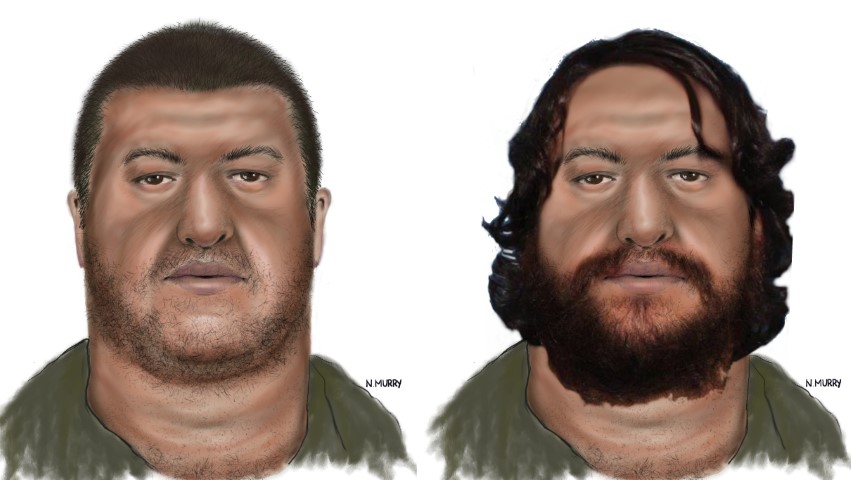 January 19 2021
I was contacted by a friend of the victim on this Olympia case the other day. He was distressed by my reconstruction of his friend, saying my drawing didn't resemble Mr. Moore at all. His friend had been a kind-hearted soul and he felt my drawing didn't show that.
It might be helpful to note that forensic art is not expected to be a portrait of a person, especially when drawn from skeletal remains. I can't draw someone's portrait when I'm working from their skull. There's only so much I can glean from a bone. I also don't like to draw a victim with a happy expression on their face - I find it disrespectful to show a homicide victim looking cheerful. The only time I draw someone smiling is when they still retain all of their teeth and it would help with identification to show them. I then draw a version of them smiling but also a version without a smile. However, I think showing this side by side rendition shows the difference it makes in just changing a hairstyle.
The left side version is my original drawing. The right side version is the exact same drawing, but with the only change being his head and facial hair matching that of the victim Mr. Moore. I think it makes a huge difference in the appearance of the sketch, and maybe it might make a difference to those who knew him.
Know that the purpose of forensic art is as a tool for detectives. It aims to get people to call in leads on who this person might be. The resemblance doesn't need to be exact, it only needs to be enough that someone could say, "It might be this guy". It needs to be enough for someone to call and give a detective a lead to follow when they didn't have one before. It's not meant to be an exact portrait, that would be impossible. In fact, the more photographic and exact to one single person it is, the less leads that would get called in.
We do the work to help the cases. Disrespect is not intended. That's all.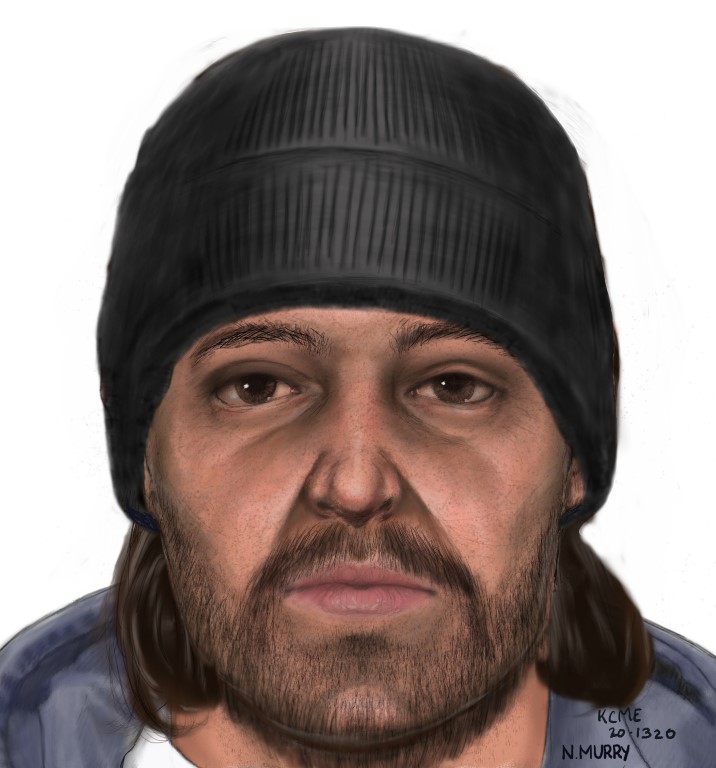 January 16 2021
Remains found in the basement of an abandoned house in Seattle recently as the house was being demolished. Unknown how long he had been there. Contact Dr. Kathy Taylor at King County Medical Examiner if you have any idea who this might be. 206 731 3232. As always, hair length and style is always the artist's conjecture although his hair color is confirmed to be brown. Victim is believed to have been in his 30s to 60s, but probably in his 40s.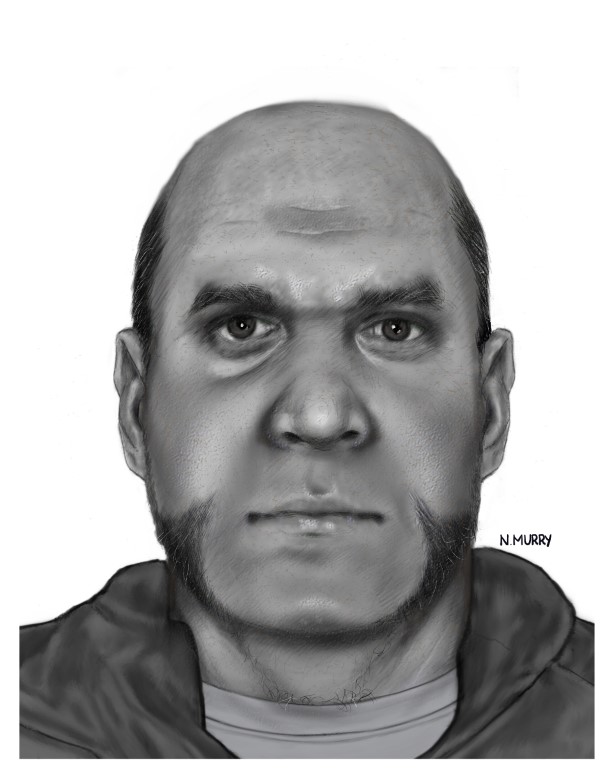 Island County WA Unidentified
December 22 2020
Found drifting off Camano Island WA in October. WM 40 to 60 yoa. 5'8", 151 lbs, dark hair. No obvious scars or tattoos. Appears he'd been in the water for some time. If you have any idea who he might be, please contact Robert Bishop with Island County Coroner's Office at 360 679 7358 or Det. Robert Mirabal with Island County Sheriff's Office at 360 679 9567 or tips@islandcountywa.gov.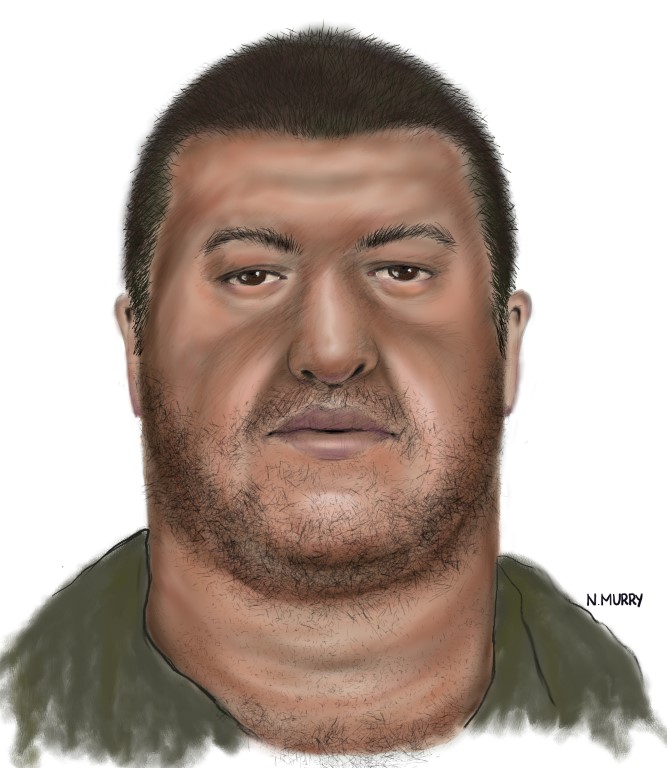 Olympia PD Unidentified Remains
November 23 2020
This victim was found as skeletal remains near railroad tracks in Olympia Wa recently. It is believed he had been deceased less than a year. He's probably between 30 and 50 years of age, Hispanic or Caucasian, and possibly homeless. The hair and facial hair are merely artist representations. None were found with the remains, they could be much different. If you have any idea who this person might be, please contact Detective Chris Johnstone at (360) 239 3958 or cjohnsto@ci.olympia.wa.us .
This victim has been identified as Shaun Moore. The investigation into the circumstances of his death continues.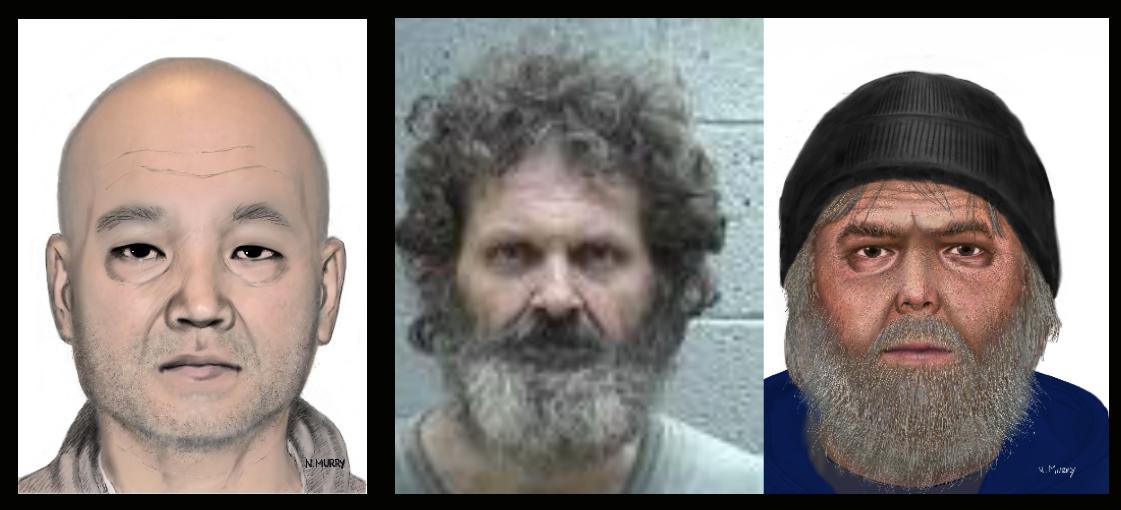 New image for Mercer Island Unidentified and ID on Clallam County Case
Sept. 30 2020
I finished this postmortem image for a Mercer Island PD case this week. It's an Asian male in his 60s that washed ashore on the south end of Mercer Island WA in 2018. They've been unable to ID him since then by other means, so are trying to see if releasing a forensic image will bring in some leads. If you believe you may know who this is, please contact Sgt. Jim Robarge at Mercer Island PD (206) 275 7925.
I was notified this week that the Clallam County case I drew as a 2D reconstruction in May got an ID recently. They released the image to social media and immediately got a tip that led to a confirmed ID for David Graham.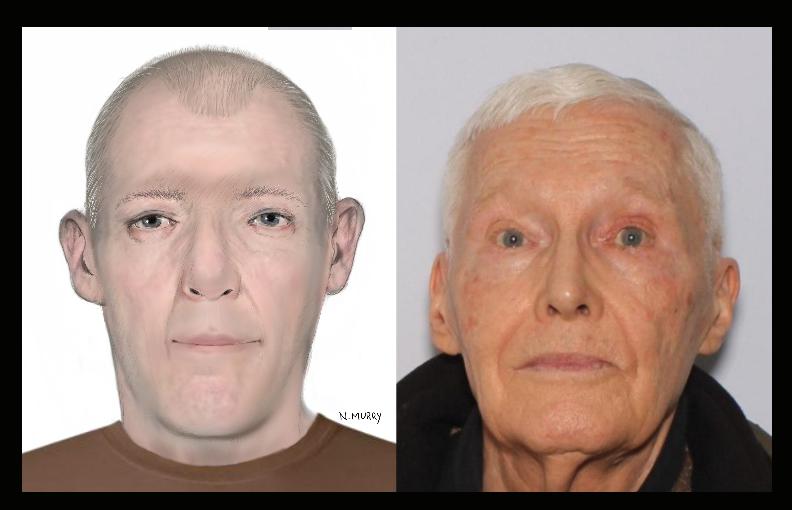 Echo Bay John Doe Identified
I did a 2D reconstruction from skeletal remains on this case in May for Snohomish County Medical Examiner's Office. This man was recently IDed through DNA as a victim from British Columbia. His 80-year-old brother had reported him missing in 2018. I don't believe he had any other family that would have been looking for him in the US news or social media to have seen the image and match it up with the missing person report. Good work as always by Snohomish County ME!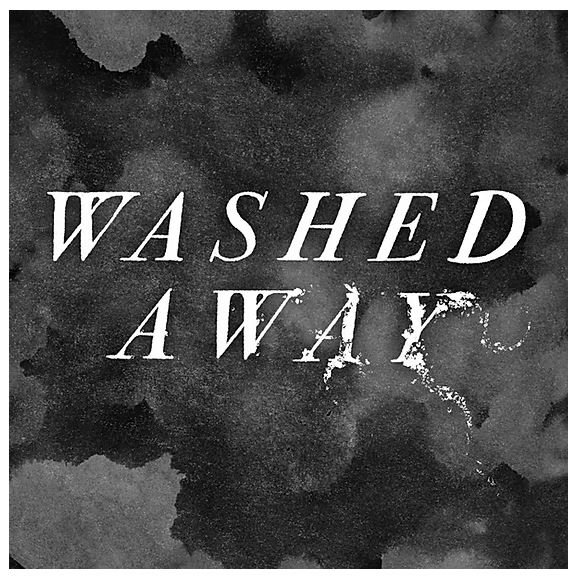 Washed Away Podcast
August 20 2020
I did an interview over the phone with Ashley Smith a few weeks ago about some of my work with Snohomish County Medical Examiner's unidentified cases. We spoke about the Precious Jane Doe case and about forensic art in general. Ashley posted an episode of her Washed Away podcast today that includes parts of our talk, and she also discusses the Lake Stickney cold case that I had done drawings for. That victim was recently identified as Rodney Johnson through genetic genealogy. It's a good episode, Ashley has a great radio voice and is a good storyteller. I have learned after listening to this though that my phone has a horrible mic. Sorry. 
The Rodney Johson episode is #5. I also recommend the first episode of the podcast about the Mary Anderson case. I recently updated that drawing as well. Ashley interviewed my colleague Dr. Kathy Taylor at the King County Medical Examiner's Office for that episode and she sounds much better than I do on my episode.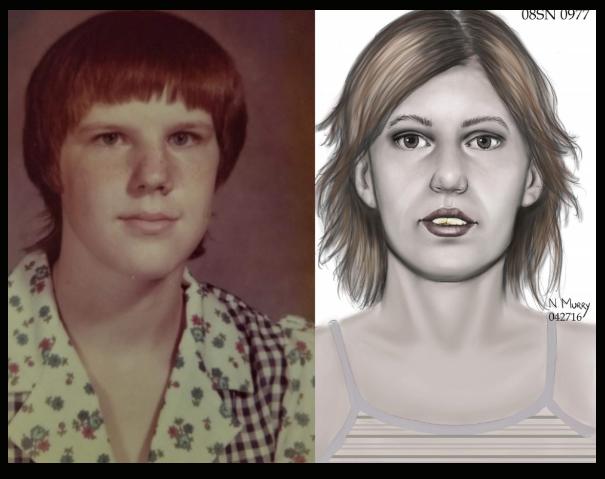 Precious Jane Doe Identified
June 30 2020
Snohomish County Medical Examiner's Office has confirmed the identification of the female previously known as Precious Jane Doe who was found in south Everett August 14 1977. 
Barbara Rae Venter and the Firebird Forensics Group used genetic genealogy to find her relatives and DNA testing of her half-brother confirmed her identity. She is Elizabeth Ann "Lisa" Roberts of Roseburg Oregon. She ran away from home July 25,1977 when she was 17 years old and was murdered by David Roth on August 9th 1977. She was unidentified until June 16, 2020.
John Hinds did the original reconstruction of Precious Jane Doe in 2008 and I did this update in 2016. Lisa's murderer did his prison time and was released and has since died a natural death, all before she was identified. An excellent job by Barbara Rae Venter and her team finally getting this young girl identified!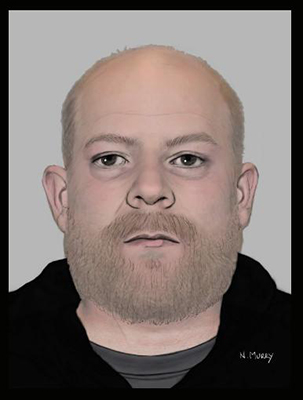 Salmon Bay Seattle Unidentified
June 5 2020
I just completed a postmortem image of this man, who was found in Salmon Bay near Seattle. He was wearing a jacket from a nearby business called Zipwhip. Showing the drawing at the business yielded no identification. If he looks familiar, please contact Detective James Sosik at King County Sheriff's Office. james.sosik@kingcounty.gov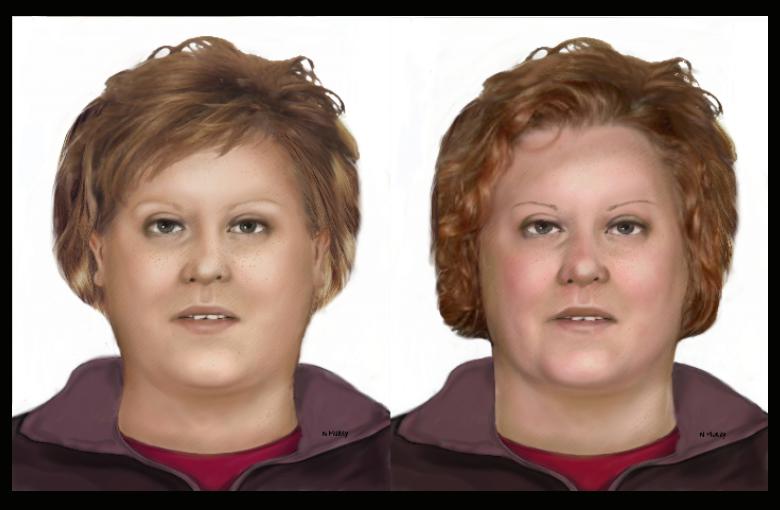 Mary Anderson case
May 28 2020
I recently did updated postmortem drawings on the Mary Anderson suicide case for King County ME. You can read about the case if you Google her, it's been a big mystery for awhile. There's now a podcast that Ashley Smith has done about the case called Washed Away. She interviewed my fantastic friend, forensic anthropologist Dr. Kathy Taylor for the first episode.
https://www.cosmicbigfoot.com/post/episode-1-mary-anderson
The original drawings for this case were based on the scene photo of the victim. In that photo, she wore extremely heavy makeup. When they took her back to the ME's office and washed the makeup off, she looked more than ten years younger and much different. My new drawings are based off the autopsy photo, which we believe look more realistic to her actual appearance. This is a version of her at a younger age and then slightly older.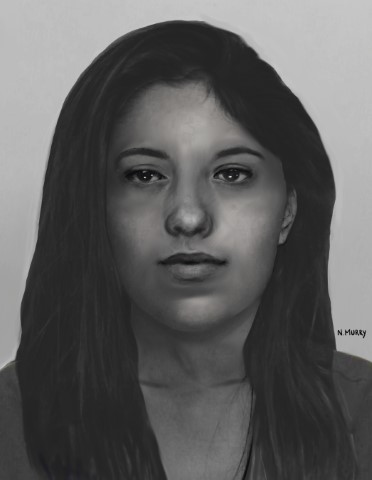 Will County Illinois cold case
February 26 2020
The coroner's office at Will County Illinois asked me to do a postmortem rendering from their 1968 cold case on this unidentified Native American female. She was about 20 to 30 years of age and had been suffocated. If you have any leads on who this might be, please contact investigator Gene Sullivan at gsullivan@willcountyillinois.com or the coroner's office at 815 727 8455.

Corona Girl Identified
January 20 2020
Corona Girl has been identified! This ID was via DNA Doe Project. My colleagues on the team narrowed down the possibilities and found the ID just before Christmas while I was out of state, so I missed out on the excitement. When I returned to Texas, the ID had been confirmed through DNA testing with the family and Corona Girl is now IDed as Sue Ann Huskey from Sulfer Springs TX. Some of her family members came down to Georgetown for the press conference. One of her sisters said my drawing looked a lot like her sister except for the hair. She asked me to change the hairstyle, that Sue Ann had never worn her hair parted on the side. She asked that I change it to something resembling the style in the school photo, so this is the adjusted image. Only the hair has been changed from the original reconstruction. You can see what a difference a hairstyle makes when you see the two sketches side by side.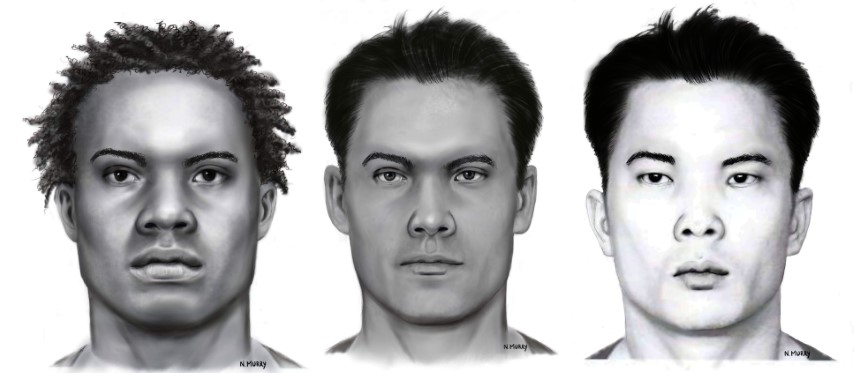 Corel Painter tutorial videos
January 20 2020
Corel has released the series of tutorials I made for them that illustrates some methods that I use when drawing digitally. There are four videos: 
Age progression and muscles of the head (muscles of expression and mastication)
Drawing a composite
The differences in the skulls for specific ancestry and sex
How to learn to draw the face for beginners.
They're up on YouTube. Here's the link. I hope you enjoy them!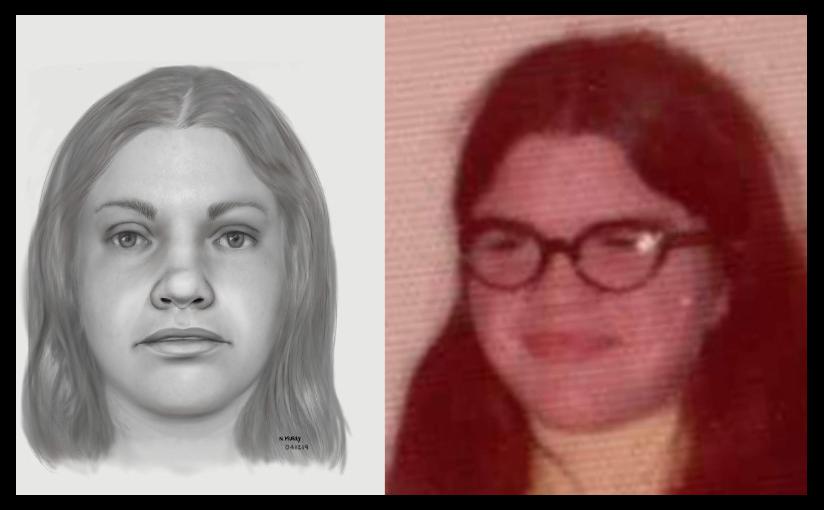 Unidentified remains homicide case from 1979 is one step closer to resolution.
In April 2019, I joined the Williamson County Sheriff's Office Cold Case Unit in Georgetown TX. Initially I had just offered to do forensic art for them but because I am a former police officer, they asked if I would also be interested in doing investigations. They assigned me to their 3 unidentified remains cases. One of them is Orange Socks.
This victim's remains were found in a culvert alongside Interstate 35 north of Georgetown Texas on Oct 31 1979. She was nude except for a pair of orange socks, thus earning the unidentified victim the name of Orange Socks.
Serial killer Henry Lee Lucas confessed to killing her and was convicted of the murder in 1984. Although Lucas confessed, police are now not convinced that he really committed this murder.
Williamson County reopened the Orange Socks investigation with the formation of the Cold Case Unit in 2017. When I joined in 2019, they requested I draw an updated postmortem image. In the case file, I found only a few morgue photographs and the original postmortem image developed in 1990.
Upon an internet search, I discovered other postmortem images had been developed over the years. Unfortunately, the good work done by these artists did not provide any information leading to the successful identification of Orange Socks.
I decided to do a new digital postmortem image. I wanted to emphasize the snub nose, the victim's youth, and some slight differences in some of her facial features to make her a little less masculine looking than the previous images had shown.
With the advantage of digital technology, the finished drawing stays true to the original evidence. Digital duplicates can be sent to clearing houses, media, and law enforcement agencies without fear of distortion or loss of shading.
Within a week of the media release in late June of this year, we received a call at the Cold Case Unit from a woman who said she thought my image looked very much like her half-sister Debra, whom she hadn't seen since 1976 or 1977. We made arrangements for her to come in on the following day for an interview. She brought photos of Debra. In the interview we learned that there was dysfunction in the family and Debra had never been reported missing.
In addition to working on the Cold Case Unit, I started working with DNA Doe Project for my cases, learning to do forensic genealogy. The DNA Doe Project was founded by Dr. Colleen Fitzpatrick and Dr. Margaret Press. Dr. Fitzpatrick is recognized as the founder of forensic genealogy.
 I was assigned to the Orange Socks case with DNA Doe Project, as they already had the DNA from Orange Socks to start the forensic genealogy workup. This type of DNA data file is uploaded to the GEDmatch website which compares the file to thousands of people's family tree files already uploaded online. This site has over a million people who have loaded their DNA data files onto the site in the hopes of identifying family members by finding others with large segments of DNA in common with their own.
I took the family information provided by the half-sister and began building a family tree for Debra Jackson. I found one 2x great grandfather for Debra that had the same name and DOB of a man that was on the tree we'd been building separately for Orange Socks – they were the same person. That made me think we were on the right track with Debra possibly being our victim. I gave this info to the team, and we ended up continuing to build the trees and finding several other matches with other ancestors in common on both Debra and Orange Socks's trees. For a final scientific confirmation, we obtained DNA from Debra's half-sister. The results showed her to be the half-sister of Orange Socks. After forty years, Orange Socks is now positively identified as Debra Louise Larned.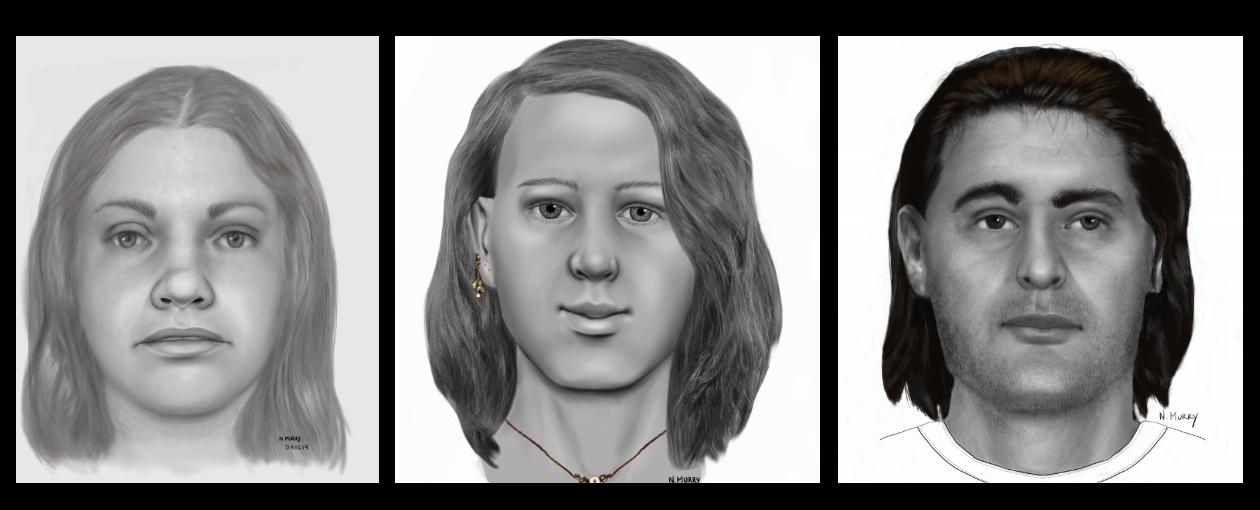 Williamson County Cold Case Unit
July 2019
In April, I started working with the Williamson County Cold Case Unit here in Georgetown TX as an investigator and forensic artist. I'll be working on the three unidentified remains cases here: Orange Socks, Corona Girl, and Rebel Ray. To start with, I drew new versions of all three cases. Mostly this was to get new interest in the cases, but I also felt I could make some improvements to earlier drawings. The sheriff released the sketches on Orange Socks and Corona Girl last week and we've gotten some good leads on them. I'm also working with DNA Doe Project, doing forensic genealogy on the Orange Socks case. We have DNA on all 3 cases. DNA Doe Project has the DNA sample from the Orange Socks case. We're attempting to build out a family tree and identify the victim that way.
Here are the new sketches. You can read about all three cases online if you Google them, they all have pages about them on DNA Doe Project, unidentified wikis, and Facebook. For Corona Girl, it's useful to type in her name and the word "unidentified" to separate her from all the posts about beer.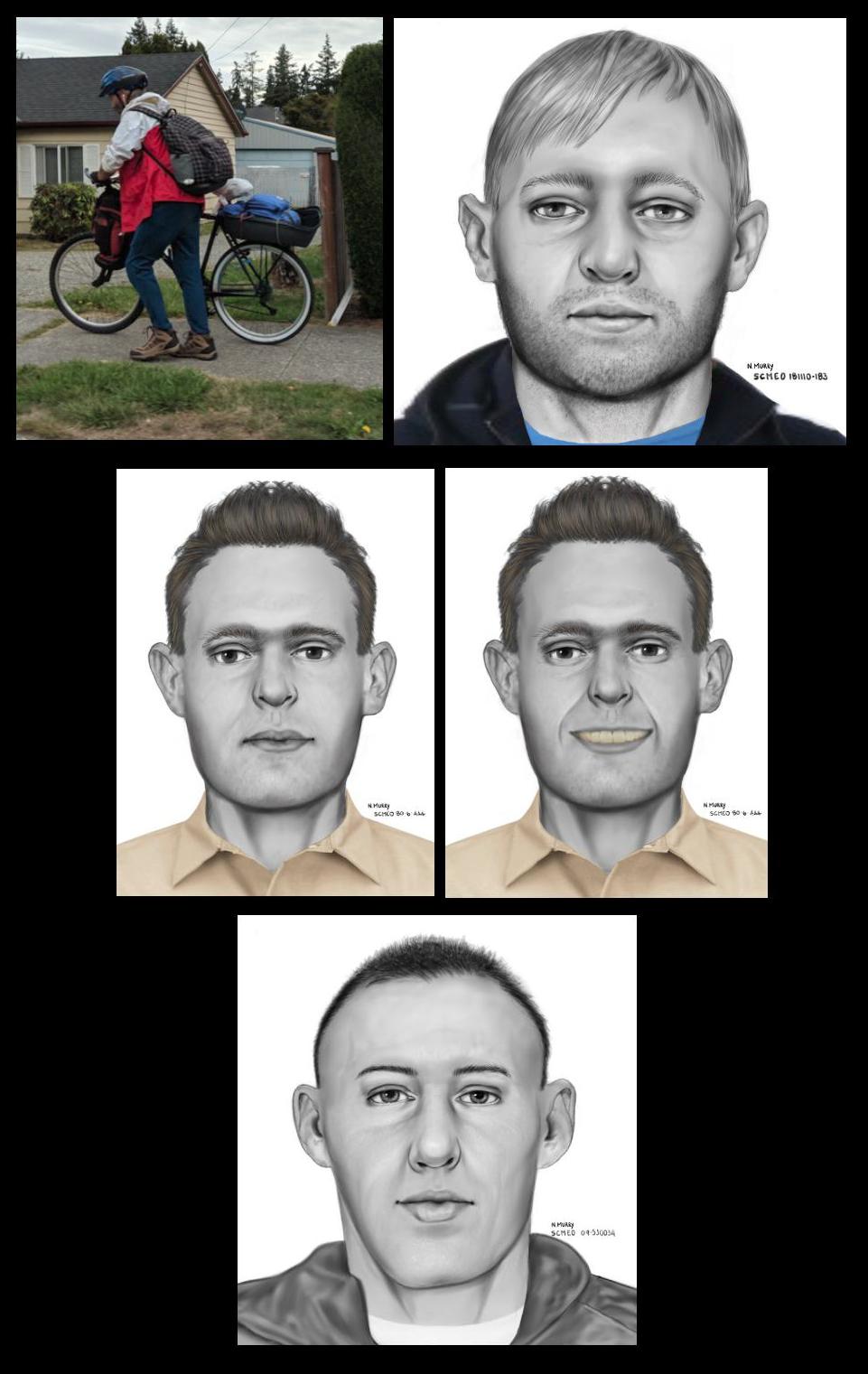 Snohomish County Unidentified Remains cases
April 2019
I've recently finished 3 cases for Snohomish County Medical Examiner's Office in Washington. This is the information on the cases. 
The first victim was found in Yost Park Edmonds in November 2018. This surveillance photo was taken of him a couple of weeks before he was found, but was insufficient for identification. He was a white male 40 to 65 yoa, 5'9", 145 lbs with gray hair. He was wearing several layers of clothing that was clean and in good condition. He wore a dark Boeing jacket with a red stamp-like logo on the left breast pocket that reads "100 percent committed" and "FOD Free", a size XXL vest, a size L UW sweater, a small light blue t-shirt for the job search site Indeed, and jeans. 
The second victim was found floating in the Snohomish River in June 1980. He was a white male, 20 to 40 yoa. He was about 5'6", about 130 to 140 lbs. His hair was probably brown. He was wearing a tan short sleeved cotton shirt buttoned in the front, a white cotton knit undershirt or t-shirt, HealthKnit brand, size 42-44, and blue swim trunks with white stripes on the side. A pair of tan "Big Mac" overalls were found tangled with him.
The third victim was found floating by Parker Reef between Orcas Island and the Sucia Islands in 2009. He was a white male 20 to 50 yoa, 5'10" and 170 lbs with brown hair. 
Digital Forensic Art Techniques
December 22, 2017
I continue to get questions through this website from forensic artists who want to know where they can learn to use digital tools in their work. I found there are still no other artists teaching this subject, and no books about it. I expanded my original workshop handout that I'd written for my Digital Composite and Digital Postmortem workshops from 28 pages to about 270 pages, and I'm happy to say it will be published in June 2018 by CRC Press, a division of Taylor Francis Publishing.
The book is a step-by-step guide with many illustrations to help artists learn to use the hardware and software to transition to working digitally. There are chapters on drawing composites, postmortem drawings, and reconstructions. This is not a book for beginning artists who want to learn about the field, but instead is specific to the subject of drawing digitally.
Skagit County Unidentified
January 30, 2019
I recently completed a 2D reconstruction from unidentified remains for this Skagit County case. The victim was found in 1998 about 14 miles north of Burlington WA off Highway 11. He was wearing this jacket and similar sunglasses. He was also wearing a red, blue, and gray plaid shirt and Levi's. He was about 5'04" to 5'06" and 20 to 30 yoa. Contact Skagit County Coroner or Skagit County Sheriff's Office if you have any leads on who he might be.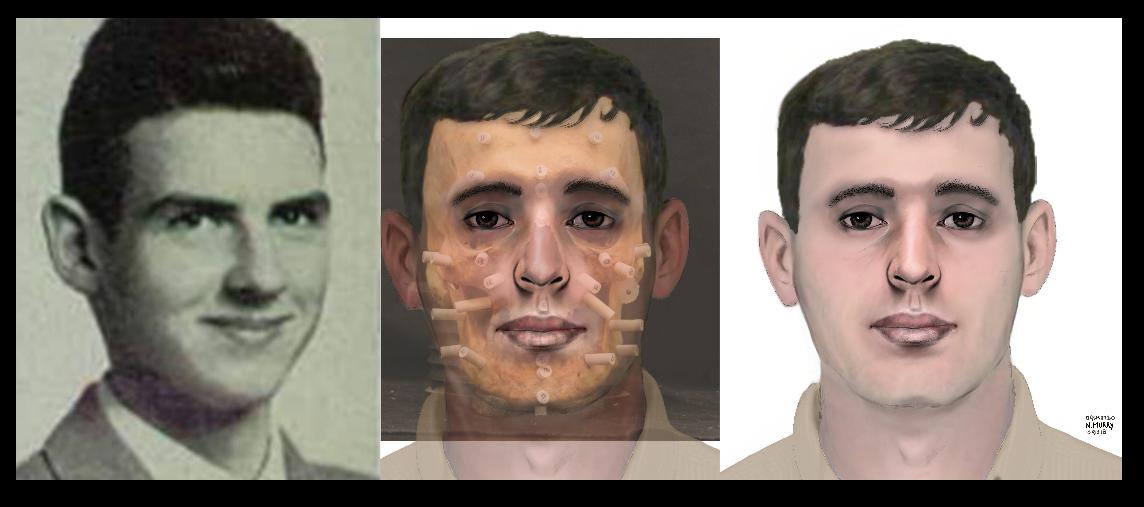 Possible Identification on Snohomish County Case
October 24, 2018
The Everett Herald posted an article on Sunday about this case that I reconstructed in September. The photos of the possible victim are a good match with proportions, the nose, the mouth, the chin and face shape. The hair color and style were just a lucky happenstance, I'm afraid. Snohomish County is attempting to get medical records to match this victim to these remains now.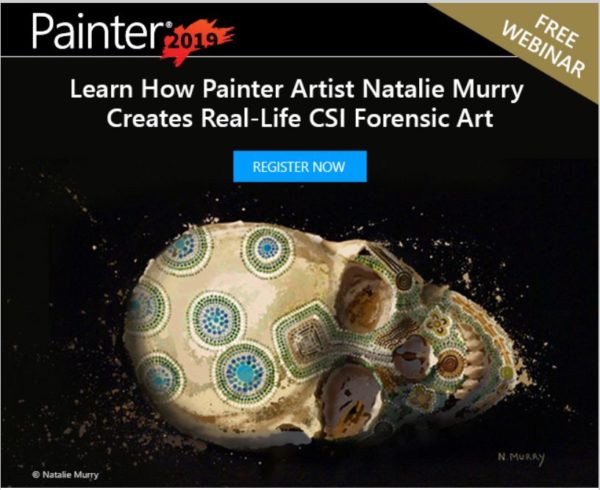 Corel Webinar
October 24, 2018
My webinar with Corel is in two weeks. I'll demonstrate how I do a 2D reconstruction on a skull with Painter, and talk about skulls in general. I'll have material on standby in case artists are interested in the differences between skulls or in seeing the details on skulls that fascinate me, but we'll have to play that part by ear. The focus is on the software and how it works for my process.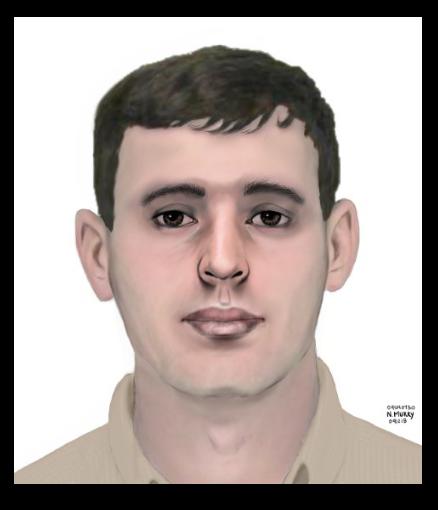 2D reconstruction for Snohomish County WA
October 1, 2018
I recently drew this case for Snohomish County Medical Examiner's Office. In January 1978, a citizen found human skeletal remains in a field in Snohomish County. This was a rural area with scattered houses at the time. The complete skeleton was not located. The victim is a white male under 40 years of age, unknown height and weight. It is unknown the color or length of the hair, that is conjecture on the part of the artist. The features are, as always, dictated by the skull.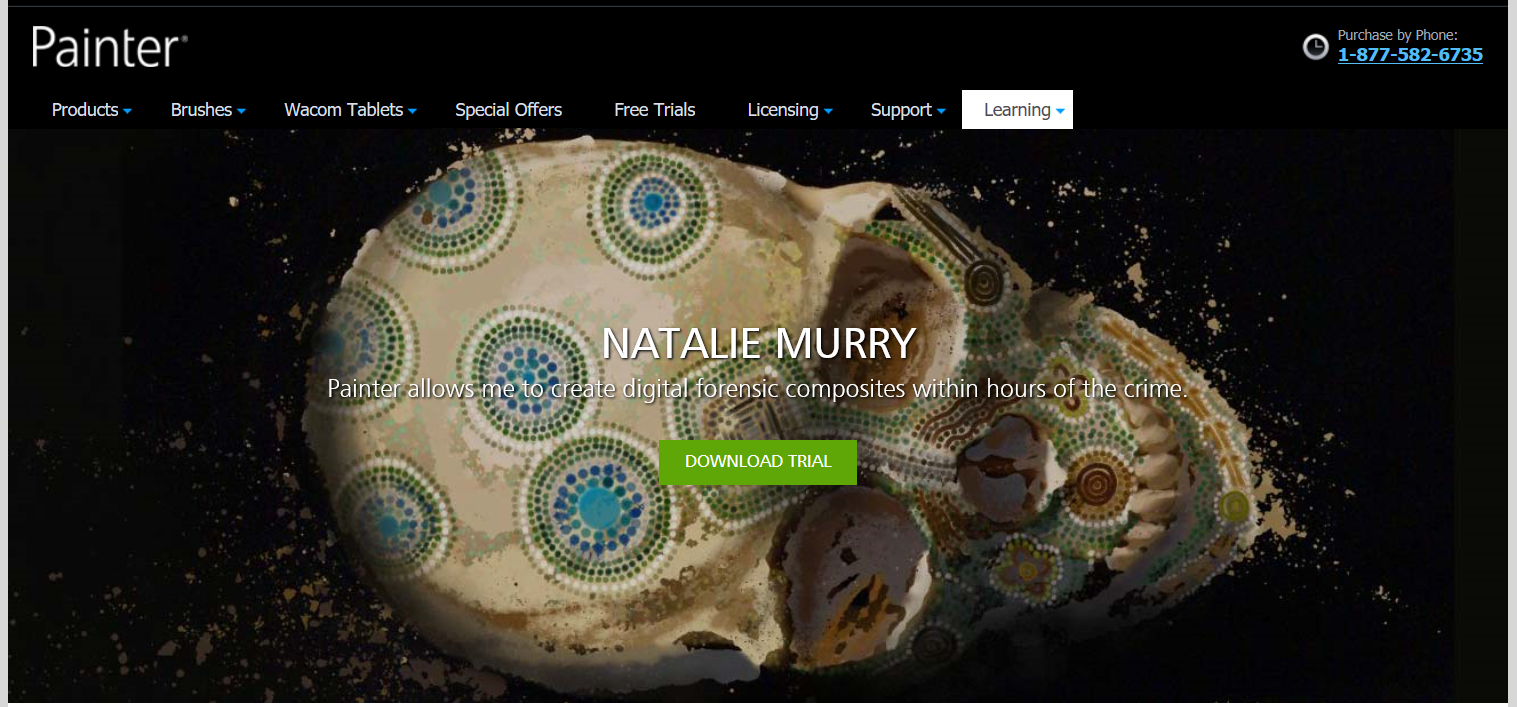 Corel Artist of the Month for November
September 2, 2018
Corel has asked me to be their Artist of the month for November. I'm honored, as they normally focus on animation and gamer art. They also feature more fine artists of course, but I'm their first forensic artist. I'll be putting together some material for a webinar and hope to make it an interesting change of pace for their artist audience. 
https://www.painterartist.com/en/pages/interviews/natalie-murry/
Age Progression for Lebanese Broadcasting Corporation International
March 13, 2018
In January, I was asked to do an age progression for a TV show in Lebanon. The missing child was three when she was taken while playing outside and would now be fourteen.
I was given some photographs of the child, her siblings, and parents. The photos are, like most family photos, not optimal for age progression purposes. I'd like photos where the person is facing straight on to the camera with good lighting and a high pixel count but you work with what you get. After I did the digital drawing, the producer asked for a description of how the work is done. They've not had a forensic artist in Lebanon before, and they were interested in how the process works. They asked for video of the digital work and a Skype interview to help bring attention to the case.
The show garnered great ratings and they received many calls on possible leads for the case.
A Different Way to Use Forensic Art Skills
October 5, 2017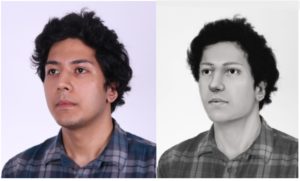 This past summer I was asked to use my forensic art knowledge and skills in a new way. It was not a reconstruction from a skull of a deceased person, but a reconstruction of a living person.
I was contacted by a young man who was planning on extensive cosmetic surgery to change his appearance, and he wanted a forensic artist to show him how those changes might appear before he went through the surgeries. He had seen some cosmetic surgeons and already had CT scans of his skull and definite ideas on the changes he wanted made to his face. He came to me with these scans and some photos of features he hoped to have.
His genetic background is middle Eastern Egyptian/Yemeni on one side and central Asian Uzbekistan on the other. He has epicanthic folds on his eyes, which is commonly an Asian feature. He wanted to remove these to have more of a European eye. He wants cheek implants and a nose job so his nose is longer and less turned up. He wants his jawline more defined. Altogether, he'd like a more traditionally masculine face than how he appears currently. I did anterior, three quarter, and lateral drawings from the photographs he had taken by Hunts Photo and Video. This is the finished image of the three quarter view drawing side by side with the original photo.
Seattle PD Reconstruction
January 18, 2017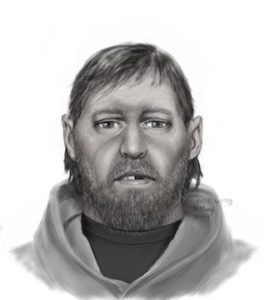 This is the last reconstruction case I prepared and photographed in December at the King County Medical Examiner's Office. This victim was found at a homeless camp on Capital Hill. He's a white male 30 to 60 years of age, but probably toward the lower end of that range. There was no mandible with these remains, only the cranium. A reconstruction in this type of case involves a certain amount of conjecture to recreate an average mandible. The artist has to go with the odds and assume an average size and shape for the missing part. If this subject had an especially large or small jaw, the drawing will not look much like him in the lower part of the face.
Keeping in mind where this subject was found, I assume he probably was unable to shave regularly. I added a beard to his face to somewhat disguise the unknown jawline.
4th Reconstruction: Kitsap County
January 12, 2017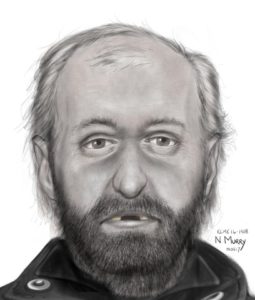 This is the fourth reconstruction from the group I prepped in December at the King County Medical Examiner's Office. It's a Kitsap County case. A white male 40 to 65 years of age. He's got a lot of antemortem tooth loss with re-absorption indicating the teeth have been gone for some time. In that case, the artist will usually draw the reconstruction with an open mouth, as the tooth loss would have been a recognizable feature. I am showing his actual teeth underneath the sketch. This man had an asymmetrical face, his left eye was higher than his right. As is often the case, the other features on his face tied in with that asymmetry, the nostril and lips were also higher on the left side of his face.
The circumstances of the case indicated this victim was possibly homeless, so I drew him with facial hair and a large coat.
The good news is that I sent this out to Kitsap County last week. I heard back today that they think they're getting close to identifying him with help from this drawing.
Wahkiakum County Reconstruction
January 9, 2017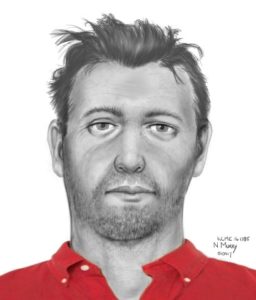 Medical Examiner's Office in December. Wahkiakum County Prosecutor/Coroner Dan Bigelow sent out the following press release: News Release: Facial Reconstruction of Wahkiakum County Unidentified Remains -
FOR IMMEDIATE RELEASE
The Wahkiakum County Coroner's Office has released new information about the unidentified human remains discovered on the shore of the Columbia River last June, including a reconstruction of the man's face by forensic artist Natalie Murry.
Working in conjunction with forensic anthropologist Dr. Katherine Taylor and with direct access to the decedent's remains, Murry, who has over fifteen years' experience in forensic art, created the attached reconstruction. (The eye color and hairline, which cannot be determined
from skeletal remains, are conjectural.)
Contemporaneously with this reconstruction, the Wahkiakum County Coroner announced additional details regarding the personal effects found with the deceased. Prosecutor/Coroner Dan Bigelow said, "I had been keeping this information private both because it may have been useful in eliminating false claims, which happens sometimes, and because by releasing it I might be revealing the name of a relative of the deceased. But after six months with almost no movement in the case, I think it's time to lay all my cards on the table."
The newly released information is this: while the decedent carried neither keys nor identification and wore no jewelry, his pocket contained a key ring that held two objects: a flat rectangular metal tag 1.25 inches by .75 inches with a cartoon picture of a girl or woman on it along with the name "DEBBIE," and a very small ring, possibly a child's, with a dark stone set in it. "It's important not to read too much into things," Bigelow said, "But it doesn't seem like a giant leap to imagine the decedent knew and cared for someone named Debbie, maybe a daughter."
This information supplements what was already known about the decedent:
• He was male, Caucasian, probably within a few inches of 5'8" tall, and anywhere between 30-60 years old (though there are circumstantial indications that the decedent was of middle age or older).
• He was dressed for the outdoors in Vibram-soled boots (size 10), a red button-down shirt, Levi's jeans (38-inch waist, 32-inch inseam), and black rain pants.
• He was carrying a microfiber optical lens cleaning cloth that had an advertisement for a West Seattle optometrist's office printed on it.
• He probably did not die where his remains were found. Instead he could have disappeared in any area that contains water that feeds into the Columbia River, whether in Washington or Oregon. He is most likely to have gone missing somewhere between the west side of Cascade Locks and the eastern part of Wahkiakum County.
Anyone with information that may lead to the identification of this decedent is urged to contact Wahkiakum County Prosecutor/Coroner Dan Bigelow at (360) 795-3652 or by email at dbigelow@waprosecutors.org.
Find out more about forensic artist Natalie Murry at http://www.nataliemurry.com
UPDATE 011317 This subject was identified through a Cold DNA match as Richard Arneson, missing from the Seattle area since February 2016. He was 62 years of age when he went missing. In the drawing, I went with an age closer to 40 because of his dental condition. The photographs of this victim show the asymmetrical nature of his mandible and mouth as shown in my drawing. I think adding another 20 years would have been a pretty good hit.

Pend Oreille County Case
January 2, 2017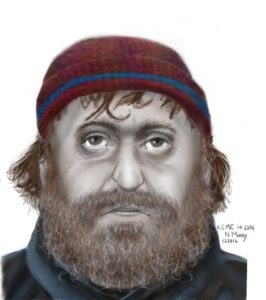 The second case from King County Medical Examiner's Office that I finished was one from the Northeastern-most county in Washington, Pend Oreille. This was an interesting case as the cranium was unusually misshapen. Dr. Taylor advised the victim was a white male possibly in his 50s who had been found in a sleeping bag under a tree. He appeared to be homeless.
I spoke with the deputy who had investigated the case initially and got more information about the scene and from the autopsy that enabled me to be more specific about head and facial hair and clothing. Dr. Taylor also pointed out other abnormalities on the bones of this victim that showed he had lived with a great deal of pain for some time, so I tried to portray that in his face when doing the reconstruction. His cranium flared forward a bit on the left side of his face and back a bit on the right, and one side of the back of his head was flattened. As with most people, his face wasn't symmetrical. One nostril was considerably higher than the other. He had very pronounced gonial flare on both sides of his mandible.
New Reconstructions
January 2, 2017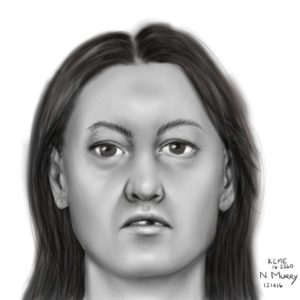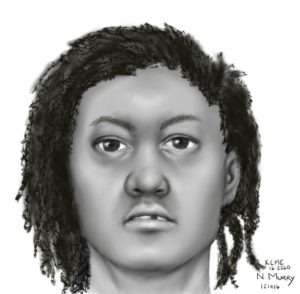 In December, I went to the King County Medical Examiner's Office in Seattle and photographed five more cases from around the state. As always, each had their individual challenges and interesting details.
The first case was a female found recently off Highway 18 in King County. My fantastic forensic anthropologist, Dr. Kathy Taylor, advised this subject was a mixed race female possibly in her early twenties. Examining the skull, I saw her facial features appeared mostly typically European-derived with the exception of her nasal sill, which was slightly guttered, indicating African-derived. Dr. Taylor pointed out the length of the cranium when viewed in profile is that resembling an African-derived skull. Dr. Taylor thought this female might self-identify as black although her features may appear more typically white. She asked that I draw two versions of the victim, one as a white female and one as a light-skinned black female. This victim also had a maxillary central incisor that had been missing long enough for the bone to have healed over, so I showed her with an open mouth to show that missing tooth.
Drawing Digital Composites
September 3, 2016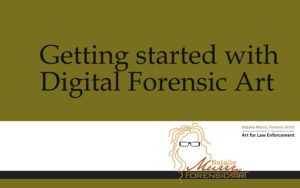 I've started putting together a few videos to help other police artists who may be thinking of starting to draw digitally. I'm often asked about the process, so maybe this will give some answers. Of course this is just the process that I use. Other artists do things differently with both hardware and software, but it'll show those just beginning to work digitally some basic methods and resources.
Two Homicides in Two Days
September 1, 2016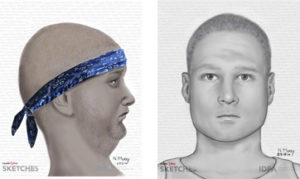 I'm posting this case without identifying the agency or state where the incidents took place, as the agency is not publishing these drawings and the case is still open.
I did two drawings in a week in August for this case. The detective sergeant called me to advise they'd had a homeless person shot and killed one night. The following night, a second homeless person was shot and killed. The second victim had been a witness to the first homicide.
The first witness the agency found for me to work with was another witness to the first killing. They had me do a profile drawing (very uncommon) and made it very unusual as well by having the neck thrust backwards instead of forwards. The witness seemed traumatized by the incident, telling me a few times what they'd heard the suspect say as he went by.
Detectives told me the next day that they believe this witness had lied, having me draw a person the witness had been having an ongoing argument with. It was believed the true suspect was a friend of this witness.
I did a second drawing a few days later with a different witness. This witness directed the
drawing very quickly, making hardly any changes. I told the detective I was suspicious that the drawing was of no one in particular and the witness was just doing the interview to please the detectives.
I'm showing these drawings to illustrate different ways that an artist can do false drawings in a real case. A witness can describe a real person who is not the suspect (sometimes an acquaintance or a celebrity), giving detailed and specific features. Another witness can make up a person who doesn't exist, using general features and making no changes. These drawings do not help identify a suspect, but it helps detectives establish the veracity of the witnesses.
Corel Painter 2017
August 10, 2016
Corel just released Painter 2017. I was fortunate to be involved in the beta testing team again this year, and they've come up with some great new tools. In this video, I'll show the customizations I use for my workflow and how I've made my own palette drawers that clean up the workspace when I need to show it to a witness.
Schuler School of Fine Art
August 6, 2016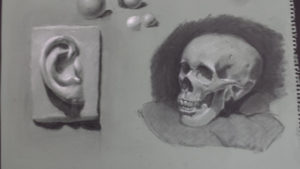 I've just returned from six weeks in Baltimore at the Schuler School of Fine Art. Hans Schuler lived and worked as a sculptor in Baltimore in the early 1900s. His descendants still live and work in the same home and studio. They are dedicated to using materials and methods as closely resembling those of the Old Masters as is possible today.
I started drawing with charcoal from casts and moved on to painting the same casts. After that, I did still life paintings for the remainder of the course.
I enjoyed learning there and getting to see Baltimore, including a site nearby where one of my ancestors fought and died close to the city in the War of 1812.
Seven New Reconstructions
May 24, 2016
These are the cases I did for Snohomish County and King County this month. Snohomish County is trying to get leads on all of their unidentified remains cases, and have asked me to do these drawings for them.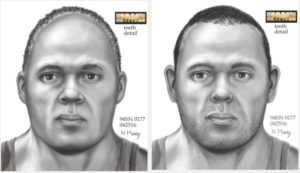 This case was listed as a white male 25 to 35 years of age on the original 1994 forensic anthropology report. This recent examination of the case for this drawing has shown the victim is instead a mixture of African and European ancestry, and closer to 50 years of age. The Cold Case detective asked me to do drawings of the victim as primarily black and as primarily white. Minor changes were made only to the hair, ears, eyes, and nose of the victim in order to change the ancestry. The teeth are shown in the top right corner as he has spaces between all of his mandibular central incisors, which is somewhat unusual.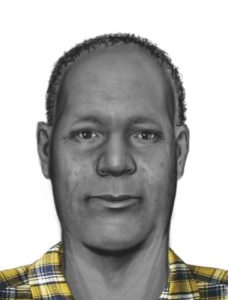 This subject was a homeless man who had been given permission several years before his death to stay in a shed on a vacation property. The owner of the property interacted with the victim on an ongoing occasional basis until his remains were found in the shed in 2015. This witness was able to provide limited assistance in this reconstruction, making it a combination of a reconstruction and a composite drawing.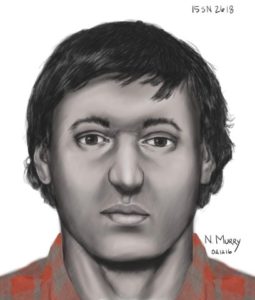 This victim is a Native American found near a reservation in 2015.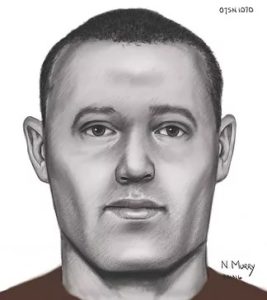 This is a white male found in Sultan in 2007.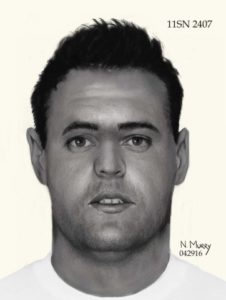 This white male victim was found in 1980.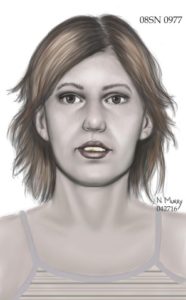 This victim is called Precious Jane Doe. She was found in 1977. Her killer was found and served time, but is now out of prison. She still remains unidentified. She's a young white female, 15 to 21 years of age. Her maxillary central incisors are crooked.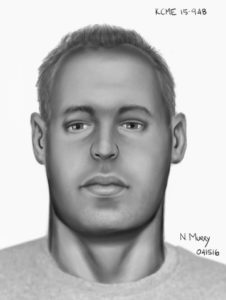 This last case is the King County case. The remains of this white male were found on Mt. Si in North Bend WA in 2015, but it is believed he was up on the mountain since the 1990s.
Snohomish County Medical Examiner's Office
April 22, 2016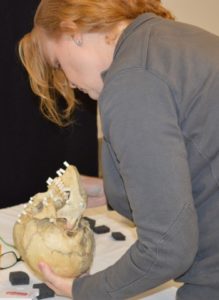 On April 7th, I went up to Snohomish County Medical Examiner's Office. They'd like to clear up all of their unidentified remains cases, and have asked me to do reconstructions for them. Three of their medical investigators and two detectives from the Snohomish County Cold Case Unit were there to watch the process. I was able to prep and photograph five cases that day, and I'd done one of their other cases earlier in the week at the King County Medical Examiner's Office.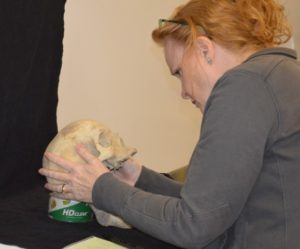 DNA Profile for Unidentified Remains Case
January 23, 2016
Washington's Most Wanted has updated this case recently, advising a private firm has been able to extract a full DNA profile from the remains. One step closer to finding out who she was.
Corel Painter 2016 Beta Team
December 20, 2015
Over the past year, I've been honored to participate on the Corel Painter 2016 beta testing team. I use Painter for all of my forensic art work, and I promote it over Adobe Photoshop to other forensic artists. When the 2016 product was released, a few of my images were included.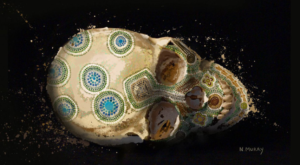 This image is on the website describing all the new features. I've used some of the new brushes that give great splatter effects on this skull. I've painted the markings on the skull as my version of an Australian Dreamtime image that tells the story of a starry night and groups huddled around campfires while the storm rages.
I did a screen grab of this image from a YouTube video on the site featuring their new brushes and effects. I painted this image from a photograph I took at the Chihuly Garden and Glass Museum in Seattle.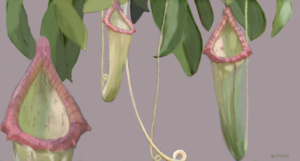 Corel has used this image in their welcome screen that appears when you open Painter. This painting was done based on photos of pitcher plants I took at the University of Washington botanical gardens.
These are additional images I created with the 2016 brushes for the beta team. The first several are skulls using some of the new brushes and trying different approaches - liquid ink, watercolor, particle brushes. I also included a triptych of a 2D reconstruction case, and a drawing of my cat.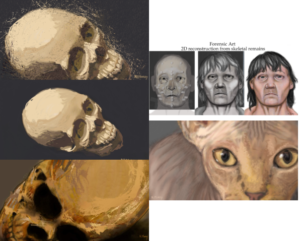 Two Identifications This Week
December 20, 2015
I spoke this week with Dr. Kathy Taylor, the King County Medical Examiner's Office forensic anthropologist . She told me two cases I'd drawn for them resulted in identifications recently.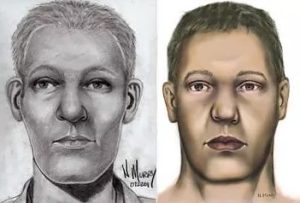 The first case was one I'd drawn back in 2001. I think it was the first reconstruction I did for KCME. The skeletal remains had been found in Jefferson County in 1975, but KCME did not get the case for many years. A Jefferson County cold case detective had recently revisited this case, and released the drawing I did to the media. They received a call from a woman in Alaska with a possible ID, which was confirmed through DNA. This set of images is the original sketch, and then a digital sketch I did some years later when my skills had evolved.

The second case was another cold case from 1989 in Seattle. The detective there had compared the sketch I did in 2005 to several booking photos and found it to be similar. All the booking photos showed the same female, but she had been arrested under different names each time. The detective searched nationwide for other arrests with these different names, and found the first one had been in California. The case was released to the media in that state with my sketch and the booking photos, and they received a call that culminated with another DNA match. This set of images shows three of the Seattle booking photos and my original sketch. Now that the victim is identified, Seattle PD can proceed with a homicide investigation.
Journal of Forensic Identification Article
September 30, 2015
I wrote an article that is being published in the September/October issue of the Journal of Forensic Identification. The JFI is the official publication of the International Association for Identification.
I have seen several postmortem drawings of unidentified people published where it is obvious that the artist just traced over the features of a morgue photo, and made adjustments (opening the eyes, removing facial trauma). This looks disrespectful to me. Unfortunately, the artist usually doesn't get very much to work with in doing this work, and often that poor quality photo is the only source for the image. Many scene and morgue photos are taken without regard to being an optimal image for an artist to work with. Frequently, they are taken while the photographer is standing at about the waist of the victim, and photographing up toward the face. The features are distorted in this view. It would make more sense and be a better drawing if the face could be rotated into a natural position - the Frankfort Horizontal. This is the most natural position for the head in life.
In the past, it was understood that you need a profile view in order to rotate the head. When working with just the awkward angle of the morgue photo, a profile is usually not provided. I have come up with a method to rotate the head using only an anterior (front) view. In this article, I explain that this technique isn't appropriate for all cases, but could be used in cases where the angle of the photo isn't too steep. I taught this at a workshop at the Forensic Anthropology Center at Texas State last year. My intention with this article is to make this technique available for other artists who did not attend my workshop but have a case where this could be used.
Unidentified Remains in Kent WA
June 10, 2015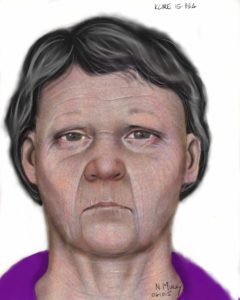 2D Reconstruction
A recent case of a female unidentified in the Seattle area. I'm still playing with different methods of adding tone. In this case, the forensic anthropologist was able to show me a hair sample and a shirt that were with the remains.
This case was featured on Washington's Most Wanted in July.
Composite Practice…Black and White and Color
May 20, 2015
Messing around on the Cintiq this week, drawing a female since I don't get much practice in that. Did her in black and white earlier this week and then added some color today.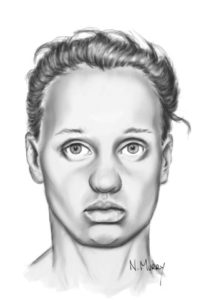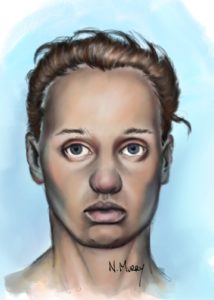 Centennial IAI Conference
April 5, 2015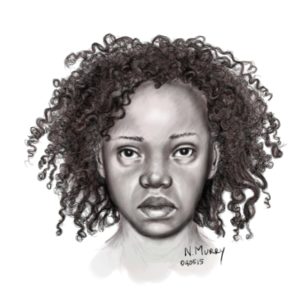 At the IAI conference this year, Don Stahl and I are co-hosting a day long workshop on Digital Drawing Techniques. Don will present how to draw eyes with Adobe Photoshop in the morning. In the afternoon, I'll present how to draw hair with Corel Painter. Wacom will provide the Cintiq tablets for students to work on. It's a great opportunity for attendees to brush up on digital drawing skills. 
New Wacom Article about my Classes
December 17, 2014
Wacom published a new article on their blog about the workshops I'm teaching this year in Scottsdale and San Marcos.
The Scottsdale workshop is a week of intense digital practice for drawing composites. It's an intermediate class, and doesn't include basic composite topics. The focus is on learning to use Wacom Cintiq tablets as a new tool for forensic artists. Each student will have a Cintiq and laptop for their own use all week, so they can learn and practice techniques and tools in Corel Painter.
The San Marcos workshop is at the Forensic Anthropology Center at Texas State (FACTS). FACTS faculty and students conduct forensic anthropology research in human decomposition processes, the postmortem interval, human skeletal variation, and forensic osteological methods. In keeping with the mission of the center, my workshop here is for forensic artists to learn to do postmortem drawings in a digital format with the Wacom Cintiq tablets. I'm honored that Dr. Kate Spradley from this facility will give a lecture during the week.
Google+ Hangout with Wacom June 18th
June 15, 2014

I did a Google+ hangout with Techman Joe at Wacom. I had a great time, we had people all over the world attend. I'd done a faux composite with one of their employees last month, and I got to see the photo of the "suspect" during the hangout to see how closely my drawing resembled her. We also talked about the different types of forensic art, some of my recent projects, my workshops, and a little about how to get into the field.
It was a fun hour and is now available to view anytime on YouTube. Thanks to the great folks at Wacom for the opportunity to talk about one of my favorite subjects – digital forensic art.
ID'ed within 2 Hours of Drawing
April 10, 2014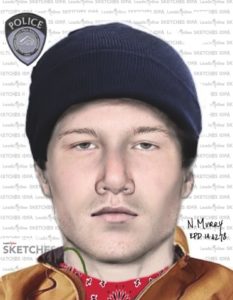 I did a composite with Kent PD on 04/03/2014 with a remote interview. The victim's bike had been stolen as he sat nearby at an outdoor portion of a restaurant. When he chased the suspect down, the suspect slashed him in the face with a knife.
Two hours after I did the drawing, one of the bicycle patrol officers in Kent ID'ed the suspect as someone he'd had contact with in the past. The victim was later shown a photo montage which included the suspect's photo, and made a positive ID.
Wacom Articles
March 31, 2014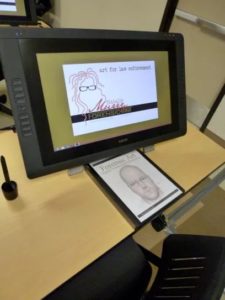 Here's a link to the first of a few articles I've been doing with Wacom. We'll also do a Google+ hangout after I get back from Scottsdale. I've done a faux composite drawing with one of their employees there, but will not see what the "suspect" looks like until the hangout.
I'm grateful to the folks at Wacom for providing loaner Cintiqs for all of my classes. It's an invaluable opportunity for forensic artists to try out digital hardware and software before making the decision to purchase on their own or to assist their departments in taking the step forward to digital work.
2D Reconstruction of Cowlitz County's Last Unidentified Remains Case
February 27, 2014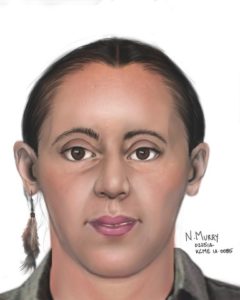 Dr. Kathy Taylor contacted me to advise that national media outlets were calling the King County Medical Examiner's Office about Cowlitz County's last unidentified remains case. The remains were being exhumed after over 20 years, and she asked if I could do a reconstruction for them. Here's a link to the original story.
Reporter Parella Lewis from Washington's Most Wanted has been following the story from the beginning. She was instrumental in raising funds for the exhumation. I finished the reconstruction and she asked me to come in to the studio and talk about the case. These are some photos that they took during the drawing portion of the interview. Hopefully the attention on the case can lead to an identification of the victim. She's described as a Caucasian or Native American woman in her early 20s. She was about 5′ 4″ and slender. A witness saw her shortly before the crash and said she had long straight dark hair in a ponytail and high cheekbones. She was wearing a gray or black shirt and possibly a cowboy vest, jeans, and a feather earring.